SMOOTHIE FACTORY INTERNATIONAL LAUNCHES NEW SUPERFOOD BOWLS
Dallas, Texas, USA (May 17, 2018) – Smoothie Factory International, a leader in today's juice bar industry, today announced the launch of the brand's new Superfood Bowls. With stores operating in 20 countries, the company is expanding its healthy high-quality menu offerings in keeping with the brand's positioning of the "Healthier Side of Life™". The Superfood Bowls menu will introduce a variety of acai, pitaya, yogurt, and oatmeal based bowls infused with superfoods to international markets around the world. 'Superfoods' are nutrient-rich ingredients known for their health benefits that increase energy, vitality, and may even help some medical conditions.
Smoothie Factory Superfood Bowls begin with a base of either acai, pitaya, yogurt, or oatmeal. Other fruits – sliced banana and strawberry, shredded coconut and fresh kiwi, for example – are layered abundantly on top. Crunch is added in the form of pumpkin seeds, hemp seeds, granola, walnuts and chia seeds, and the natural sweetness of the fruit is augmented with a touch of honey. In addition, guests can choose from a variety of additional superfoods such as goji berry and bee pollen to personalize their Superfood Bowl.
The superfood bowls menu features a variety of options, such as the Blue Brazilian (with organic acai, blueberries, banana, granola, and chia seeds), the Rose Dragon (with organic pitaya, strawberries, kiwi, bee pollen, and chia seeds), and Cocoa Power (with organic acai, peanut butter, cocoa, soy milk, banana, almonds, and chia seeds).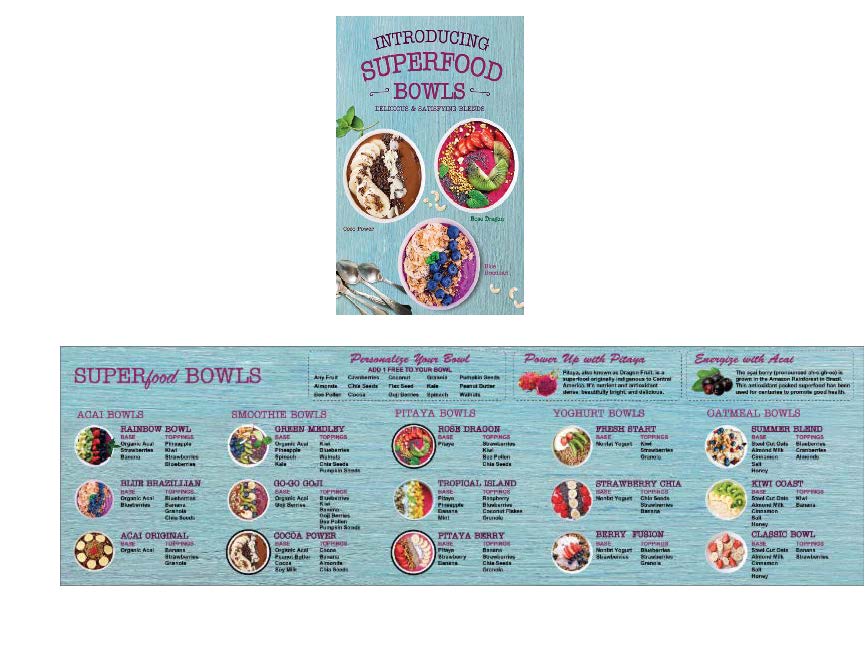 There are 15 delicious superfood bowls to choose from and are categorized as:
Acai Bowls
Pitaya Bowls
Yogurt Bowls
Oatmeal Bowls
Additionally, the brand is debuting a wide variety of popsicles handcrafted with real fruit and juice. Plus, fresh squeezed juices, juice cleanse programs, and authentic frozen yogurt are available at all stores.
"We look forward to introducing the delicious flavor of the acai berry and pitaya to our guests in the 20 international markets we operate," said James Villasana, President of Smoothie Factory International. "For some, this will be their first time to experience these superfoods and enjoy the many health benefits they provide. The acai and pitaya bowls look like ice cream, almost taste like ice cream, and certainly make you feel great about your meal choice." The acai berry (pronounced ah-sigh-ee) is known for its high levels of antioxidants and is grown in the Amazon Rainforest while pitaya (also known as dragon fruit) is nutrient and antioxidant dense and was originally indigenous to Central America.
"More and more diets are filled with foods that are processed, packaged, and served with additives, hormones, or preservatives" said Arthur Pro, Vice President of Smoothie Factory International. "Many foods have been genetically changed while others are chemically processed. The Smoothie Factory Superfood Bowls are designed to provide a nutrient-rich meal packed with superfood ingredients that are all natural. It's a fast, easy, and delicious way to recharge and maintain your healthy lifestyle."
Founded in 1996, the Texas, USA based lifestyle Smoothie Factory brand focuses on providing guests with high quality and great-tasting smoothies, juices, juice cleanses, frozen yogurt, healthy lite foods, popsicles, and superfood bowls. Perhaps the most impressive trait that Smoothie Factory possesses is its desire to continually enhance its franchising system, interior design, and brand image – And in today's brand conscious society, this can only translate into continued success. Since the company's founding, the Smoothie Factory brand has become recognized for excellence in service, product, and value.
Should you have any questions or if there is anything you would like to discuss, feel free to contact us:
Smoothie Factory Italy
G. PIERSANTI
DIRECTOR EASY FRANCHISING
+393282323944
https://easyfranchising.eu/nuovo%20brand/usa-smoothie-factory/
#smoothiefactory#franchising#masterfranchisee#frullati#yuogurtgelato#succhi#ghiacciolidifrutta#insalatieresalutiste#benesserealimentare#usa